H-BC ELEMENTARY PARENT CONNECTION
Friday, May 13, 2022
Dear Parents:
The end is near! Thursday, May 27th is the last day for students. Elementary students dismiss at 12:45. We have a packed 9.5 days left! Please make sure all your summer lessons & camp registration are complete, as well as field trip forms and money.
5th -12th Grade Band Concert: The makeup date for the 5th-12th grade band concert is set for MONDAY, MAY16TH - 7:30 PM at the Jr/Sr High School in Hills.
Puppy Relays TODAY!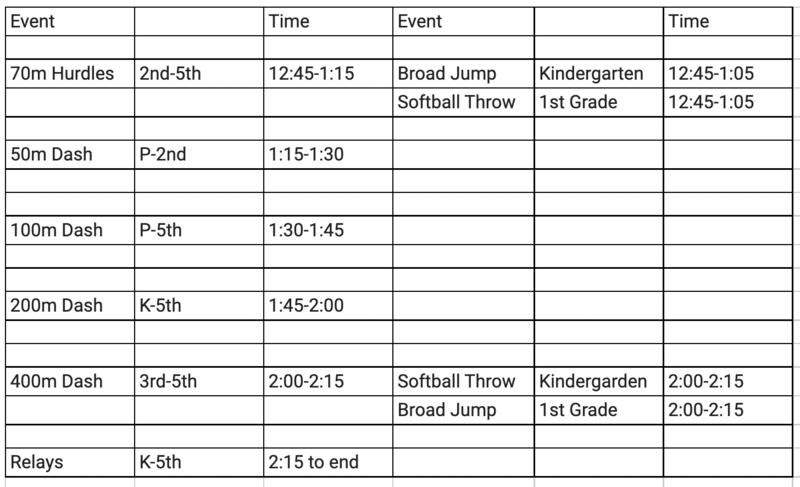 End Of Year Celebration: Our PBIS Team is working on a fun End Of Year Celebration for Thursday, May 26th. Watch for information to be sent home. Yes, weather permitting, students will be able to use the City's Splash Pad!
H-BC Elementary Entrepreneur Fair: H-BC 5th grade students have been learning about developing a business model. They have formed partnerships, created new products and learned about expenses and marketing. Students in grades K-4 will have the opportunity to see all the new products and hear the sales pitches at the Entrepreneur Fair held at the elementary School on May 19th during recess times.K-4 Students may bring up to $5 to spend at the Entrepreneur Fair. Please adhere to this amount.
Book Fair: BIG NEWS - In an effort to promote summer reading, each K-8 Student will receive a $20 gift certificate to the Book Fair. The Elementary Book Fair is May 16-20 During Library time. The gift, made possible through a grant, may only be used for books. Students may also bring their own money to purchase additional items, if they wish.
Library Book Return: All Library Books are to be returned before Friday, May 20th.
Better Speech and Hearing Month: School-based Speech-Language Pathologists work with students in grades K-12, as well as 3-5 years and 0-3 years. SLPs help students effectively use their speech and language skills to be successful within the educational environment. Some areas which an SLP may help students are: speech sounds, spoken and written language, stuttering (fluency), cognition, social communication, voice and augmentative and alternative communication. If you have questions or concerns about your child's communication, please contact Jil Vaughn, MA, CCC/SLP, H-BC Schools
National School Nurses Day: H-BC is privileged to have Mrs. Leenderts as our School Nurse! Happy School Nurses Day on Wednesday, May 11, 2022.
Bike Rodeo: H-BC Elementary Students are invited to the annual Bike Rodeo Saturday, May 21, 10- Noon at the Blue Mound Ice Arena in Luverne. Children bring their own bike to ride. Games, bike repair and prizes are included. The event promotes bike safety.
_______SUMMER LESSONS & CAMPS – SIGN UP NOW!__________
Summer Swimming Lessons: 9 lessons have been scheduled for H-BC students - June 20-30, 8:45-9:25. The on-line Registration is now open at Luverne Area Aquatics & Fitness Center. See the directions here: Summer Swimming Lesson Registration 2022 Directions and forms were also sent home today.
IMPORTANT FOR THOSE STUDENTS NEEDING TRANSPORTATION: H-BC will coordinate transportation for students currently Kindergarten and older. Please complete this form and return it to H-BC Elementary with payment: swim bus form
Free Summer Tutoring: Reading Corps & Math Corps are offering FREE virtual tutoring this summer. See the information at the bottom of this newsletter. May 13 is the deadline for submitting a request. Check out this great opportunity!
Summer Speed Training: Students in grades 4-12 for 22-23 school year are welcome to register for Summer Speed Training. See the form & information below.
Summer Basketball Camp: Students currently in grades 2-8 are invited to register for this year's Summer Basketball Camp. The camp will run May 31-June 3 at the H-BC Secondary School in Hills. Registration is due before May 18. See the form below.
MARK YOUR CALENDAR:
May 16 6-12 Choir Concert & Secondary Art Exhibit
May 27 Last Day Of School - 12:45 Dismissal
Elementary Field Trip Dates:
LPA Playing at the Park (M/W/F)-- 5/19
LPA Playing at the Park (T/H)-- 5/20
Kindergarten– May 25, Sioux Falls Washington Pavillion
First Grade– May 20, Brookings Children's Museum
Second Grade– May 20, Sioux Falls Skate City & The Outdoor Campus
Third Grade– May 25, Worthington Pioneer Village/YMCA Swimming
Fourth Grade– May 25, Perry Creek Dairy Farm and Wells Blue Bunny Ice Cream Parlor-Le Mars
Please follow us on Facebook - @hbcpatriots1 This is a great way to see all the amazing happenings at HBC Public Schools!
NEW Preschool Options For 2022-23 - We're excited to announce our Little Patriot Academy Preschool now offers 3 class options!
4-5 year olds (entering kindergarten in 2023) may attend 5 days per week (every afternoon)
4 year old class: 3 days per week- Monday/Wednesday/Friday mornings
3 year old class: 2 days per week- Tuesday/Thursday mornings
Sessions are half days- mornings: 8:15-11:00 am afternoons: 12:30-3:15 pm. Please call the office for more information. Spots are available!
Kindergarten Registration: If you or someone you know missed the H-BC Kindergarten Round-Up, there is still time to register. Please call the elementary office.
2022-2023 School Calendar: The Hills-Beaver Creek Board of Education approved the 2022-2023 School Calendar at its meeting on 2/28/22. Here is the LInk to the 2022-2023 School Calendar.
NUT AWARE SCHOOL: H-BC Elementary School is a peanut/tree nut allergy aware area. There will be no classroom projects with peanut butter or peanut shells. Please do not send any of these projects into the classroom with your child. It is our hope that parents, who send a lunch from home for their child, CHOOSE NOT TO send foods containing peanut butter or nuts.
AM BUS CHANGES: For morning bus changes please call the HBC bus line--make sure to identify your student and the bus number they are riding: 507-962-3240 press 4.
Please reach out to Mr. Holthaus if you have any needs. Phone- 507-673-2541 or email t.holthaus@isd671.net