H-BC ELEMENTARY PARENT CONNECTION
Friday, April 22, 2022
Walk aThon - Thank you to all who pledged to our student walkathon. The funds, collected by our PTO, will directly benefit H-BC Elementary School. The student's had a great time walking today!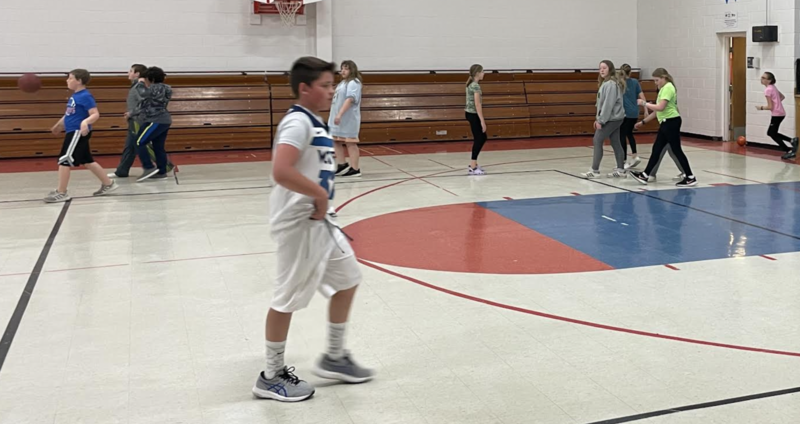 Volunteer Appreciation: April 17-23, 2022 is National Volunteer Week. Volunteers are a huge part of H-BC. Parent and community volunteers step up in many ways, just to name a few: coaches for girls on the run, basketball league and summer rec, assisting teachers with projects, chaperones, concessions, assisting in the library, PTO members, board and committee members and much, much more! Thank you to all who share their time with H-BC.
Spelling Bee: Good luck to our HBC 5th & 6th grade spellers as they compete in the SW MN 2022 Spelling Bee hosted by H-BC and held at the HBC Secondary in Hills tomorrow, Saturday, April 23rd from 8 am until 11 am. Our contestants representing HBC are Sage DeBoer, Lilly Top, Trinity Olson, Karson Metzger, Ruby Susie and Kaleb Olson (alternate). We wish them the best! Pictured are 5th grade students Trinity & Kaleb.
Grades K-5 Prom Event: The 22-23 Junior Prom Committee is hosting a "Little Patriot" prom event for students in grades K-5 on Saturday, April 30th from 4-7 pm. See the flier at the bottom of this newsletter. All questions should be directed to 507-350-9522.
MCA Testing: The final tests are April 26 & 27 for the fifth grade only. Thank you for continuing to encourage your child to do their best on these important tests.
Thank you Parents: Thank you to the parent volunteers who provided and served breakfast to our 3rd,4th & 5th grade students on Tuesday before testing. It was delicious!
Field Trips: Classroom Teachers will be sending field trip dates & information home with students. Thank you for your prompt response in returning permission slips and fees, as requested.
Summer Swimming Lessons: Watch for information to come regarding Summer Swimming Lessons at Luverne Area Aquatics. H-BC will be coordinating bussing June 20-30th for the 9:00 am lessons. Students who are currently 2021-22 Kindergarten and older may ride the bus.
5th Grade Lego Robotics: The program will continue Tuesdays & Thursdays through April 28, 2022.
Girls On The Run: Our 3rd-5th grade girls continue to meet Mondays and Wednesdays after school for Girls on the Run. The program concludes with a non-competitive 5K Run on May 14th at Yankton Trail Park in Sioux Falls.
NEW Preschool Options For 2022-23 - We're excited to announce our Little Patriot Academy Preschool now offers 3 class options!
4-5 year olds (entering kindergarten in 2023) may attend 5 days per week (every afternoon)

4 year old class: 3 days per week- Monday/Wednesday/Friday mornings

3 year old class: 2 days per week- Tuesday/Thursday mornings
Sessions are half days- mornings: 8:15-11:00 am afternoons: 12:30-3:15 pm. Please call the office for more information. Spots are available!
Kindergarten Registration: If you or someone you know missed the H-BC Kindergarten Round-Up, there is still time to register. Please call the elementary office.
Early Childhood Family Education: May 8 is the final ECFE class for the year. ECFE is designed for families with children from birth to five. For more information contact Macy Ellingson at m.ellingson@isd671.net.
MCA Testing See Above

April 27 - 4th Quarter Mid-Term

April 29 - Early Dismissal & Pride Store

May 9 - Grades 5-12 Band Concert

May 13 - Puppy Relays
Please follow us on Facebook - @hbcpatriots1 This is a great way to see all the amazing happenings at HBC Public Schools!
2022-2023 School Calendar: The Hills-Beaver Creek Board of Education approved the 2022-2023 School Calendar at its meeting on 2/28/22. Here is the LInk to the 2022-2023 School Calendar.
The District Newsletter: Be sure to read the April newsletter, it's full of H-BC happenings. April Newsletter
NUT AWARE SCHOOL: H-BC Elementary School is a peanut/tree nut allergy aware area. There will be no classroom projects with peanut butter or peanut shells. Please do not send any of these projects into the classroom with your child. It is our hope that parents, who send a lunch from home for their child, CHOOSE NOT TO send foods containing peanut butter or nuts.
AM BUS CHANGES: For morning bus changes please call the HBC bus line--make sure to identify your student and the bus number they are riding: 507-962-3240 press 4.
Please reach out to Mr. Holthaus if you have any needs.
Phone- 507-673-2541 or email t.holthaus@isd671.net
K-5 Prom Event: