05/21/2021--Friday
H-BC Elementary School Families:
Thank you all for your continued efforts! This is an exciting time of year for our students. The anticipation for end of school year activities and summertime can be stressful. Let's keep on encouraging our students to finish the year strong!
MASK in Schools UPDATE The MN Department of Education is requiring mask wearing by everyone inside school buildings or on a school bus through the end of our school year.
Library: All Library Books are due. Please check with your student to make sure they have all their library books returned. Thank you!
PRIDE End of Year Event Staff have prepared a number of fun activities for students to enjoy in the afternoon on Tuesday, June 1. Here is a list of the activities: •Fun in Sun (rock chalk, bubbles, playground, beach balls) •Playground and Treats •Game time •Bingo •Beaver Creek Splash Pad Students who choose to get wet are encouraged to wear their swimsuit under their clothing to school and bring a towel and plastic bag.
Puppy Relays! It was a great day for H-BC Elementary Relays. Thank you Mr. DeBoer for coordinating the event.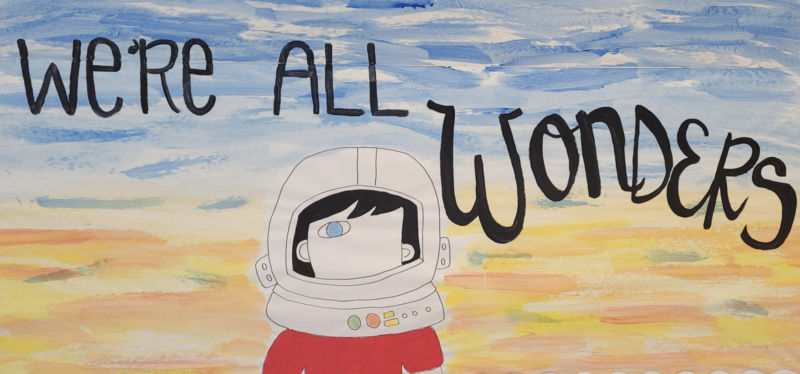 One Book One School H-BC Elementary continues to read the book Wonder by R.J. Palacio. It's a great way to celebrate the success of an individual that is "different". Many life lessons are taught. Ask your child about Wonder.
Summer Basketball Camp Registration: Current students in grades 3-8 are invited to attend this year's camp led by Coach Kale Wiertzema and members of the High School Basketball teams. The camp is June 7-10. 3rd-5th grade-8-10am and 6th-8th grade-12:00pm at the jr/sr high school in Hills. Registration deadline is May 21 (TODAY).
Looking ahead--
Elementary Field Trip Dates:
K & 1: May 26, Sioux Falls Zoo/Sertoma Park
2: May 25 Washington Pavilion/Sertoma Park
3: May 26, Pioneer Village/YMCA Swimming
4 & 5: May 28, Multi Rose Dairy in Rock Rapids, Sioux Falls Park & Bowling
May 31 No School June 2 Last School Day -12:45 Dismissal Please reach out to me if you have any needs. Phone- 507-673-2541 or email t.holthaus@isd671.net