H-BC J/S High Bulletin
Molly Schilling
Thursday, February 13, 2020
FFA week is February 24 - 28! Ms. Rogers and the H-BC FFA chapter is active year round with various learning opportunities, fundraisers, projects, competitions, etc. This week some of the AG classes finished up their study on floral design and surprised staff with beautiful bouquets!
Dress up days for FFA Week:
Monday (24th) - Red or Green
Tuesday (25th) - FFA shirt
Wednesday (26th) - Farm animal (dress up as a farm animal)
Thursday (27th) - Camo/burnt orange
Friday (28th) - Drive your tractor to school + wear flannel/plaid
---
No School - Friday, February 14th and Monday, February, 17th
---
Midterms are here!
Midterms for the third quarter were this past week.
---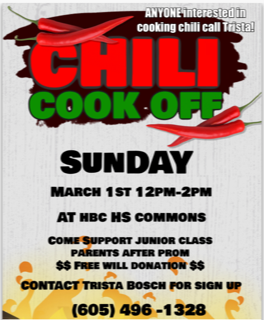 ---
HBC TRAP TEAM NOTICE!!
If you are in grades 8th-12th and interested in joining the HBC trap team, we will be having an informational meeting on February 20th in the high school library between the JV and Varsity game. Season starts March 29th and we will be selling raffle tickets again this year.
**Gun/Hunter Safety is required for all students to join the trap team.
---
Driver's Education -
Driver's Ed classes will begin shortly! Please sign up in the office. It will begin on February 26 from 3:15 - 5:30. The other dates include: February 26, 27, 28, March 2, 3, 4, 5, 6, 7, 9, 10, 11, 12. The Parent Educational Meeting will be March 10th at 7:00.
---
To report bullying: https://safe2speakup.com/onlinebully?workspace=HillsBeaverMN
---
Upcoming Events:
Tuesday, February 18 - BB v. Edgerton
Wednesday, February 19 - 6E to Tuff home
Thursday, February 20 - BB v. RRC
Friday, February 21 - BB @ HLOF (FCCLA fundraiser - $7 meal available @ HLOF)
Saturday, February 22 - GB - Super Saturday in Worthington