HBC J/S High Bulletin
Molly Schilling
Friday, November 15, 2019
H-BC students claim 5 of 6 top VFW Essays
Allison LaRock claimed 2nd place and Calvin Erickson was awarded 3rd place in the Voice of Democracy Essay competition for the high school. The middle school division of Patriot Pens resulted in Lanae Elbers claiming 1st place, Mazzi Moore in 2nd place, and Tahliya Kruger in 3rd place. Congratulations students for your well crafted essays! Calvin shared his essay during Monday's Veteran's Day Program.
---
Thank you Veterans!
Monday's Veteran's Day Program was very well done and well attended by our community. Thank you to Mrs. Oftedahl for organizing the Veteran's Day Program and all those that helped make it a success!
---
Fall Awards

The fall awards banquet was held on Tuesday, Nov. 12th. Football and volleyball student athletes were recognized for various team awards and letters won. Congratulations to Whitney Elbers for being nominated for All-Conference, and Abby Knobloch for Honorable Mention. Football All-Conference honors include: Tyson Bork, Gavin Wysong, Jax Wysong, and Zander Wysong. Chase Bosch and Tory Knobloch earned Honorable Mention. Both the football and volleyball seasons were exciting - congratulations to all of the athletes, coaches, parents, and loyal fans on a successful season.
---
See the information on ROCK County SHARE Program for those in need. If you need or someone you know is in need this time of year. The Rock County SHARE Program is here for you. See all the details here....https://5il.co/b84h

---
Basketball apparel orders close Nov. 17th

Support the basketball teams this winter season with some new apparel through this link:
https://hbc-basketball-2019.itemorder.com/ Closes on November 17.
---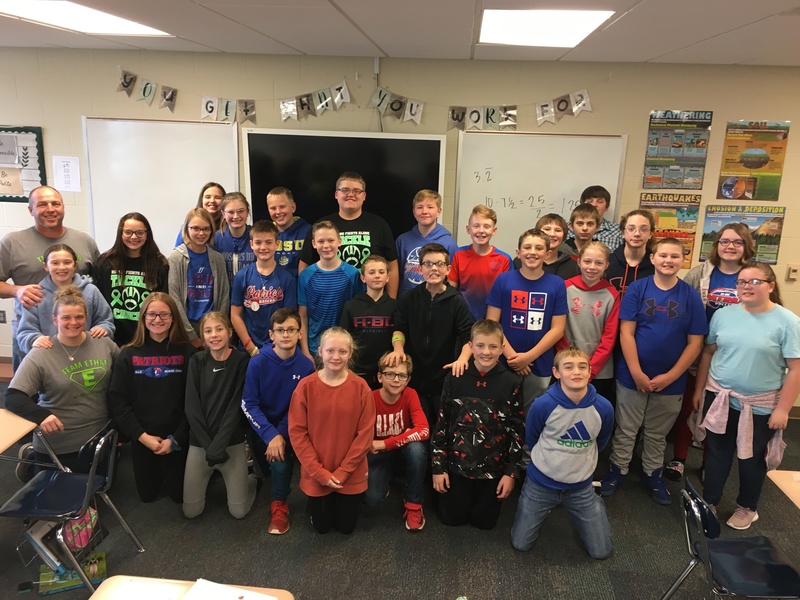 The 7th grade class was able to enjoy some time remembering and celebrating Ethan's birthday on Monday with the Ericksons. Thank you for the treats!
---
Upcoming Events:
Monday, Nov. 18 - American Education Week Kick Off!
Monday, Nov. 18 - Boys basketball practice begins; JH basketball begins
Tuesday, Nov. 19 - Parent Teacher Conferences (both buildings)
Thursday, Nov. 21 - 6:30 Blue Ribbon Celebration at H-BC elementary
Friday, Nov. 22 - Girls BB at Luverne
Wednesday, Nov. 27 - 12:30 Early Dismissal
Nov. 28 & 29 - No school - Happy Thanksgiving!
Proud to be a Patriot!

Mrs. Molly Schilling

507-962-3240 ext. 44