HBC J/S High Bulletin
Molly Schilling
Friday, November 08, 2019
It was a cold, but successful Corn Drive! Due to the weather and road conditions, we pushed the date back a day. Thank you to the supportive community of agricultural producers, businesses, and other individuals that gave of their resources to provide an opportunity for our FFA members. The FFA chapter was also able to bring meals to many individuals and is grateful for the opportunity to talk with the farmers and employees at the New Vision Elevator.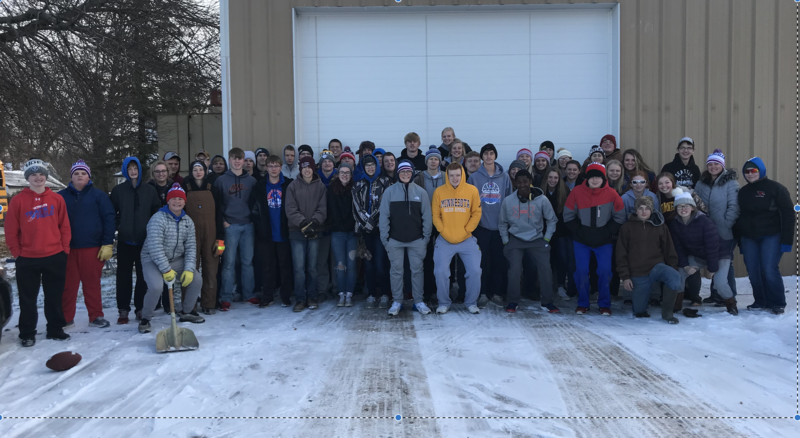 ---
With the cold weather here, most likely to stay, please encourage your students to dress appropriately for the cold. We do not have outdoor recess like the elementary, but would like students dressed in warm clothing in case of a fire drill or slippery roads that lead to a car stuck in the ditch.
---
See the information on ROCK County SHARE Program for those in need. If you need or someone you know is in need this time of year. The Rock County SHARE Program is here for you. See all the details here....https://5il.co/b84h
---
Monday, November 11th, at 9 AM we will be hosting the second annual Veteran's Day Program to honor past and current service men and women! Students are encouraged to wear RED, WHITE, and BLUE. Students and staff will be parking on the North and West sides of the school, further away from the entrances to allow closer parking for our visitors.

This event will be streamed live for free: www.NFHSnetwork.com and search Hills-Beaver Creek for our events.
---
Two apparel options available:
- PTO Apparel Sale--https://hbcpto19.itemorder.com...Closes on Tuesday, November 12.

- Support the basketball teams this winter season with some new apparel through this link:
https://hbc-basketball-2019.itemorder.com/ Closes on November 17.
---
Bullying Reporting Form-- Here is the link for reporting bullying. https://bit.ly/2lN4lvc
---
Upcoming Events:
Nov. 11 - 9 AM Veteran's Day Program - Wear Red, White, and Blue
Nov. 11 - Girls' basketball begins
Nov. 12 - 6 PM Fall Awards
Nov. 12 - 7 PM Board meeting
Nov. 13 - World Kindness Day - Wear Purple
Nov. 13 - Mrs. Edmundson's class to the Tuff home
Nov. 18 - 22 - American Education Week
Nov. 19 - Parent Teacher Conferences
Nov. 21 - 6:30 Blue Ribbon Celebration at the H-BC Elementary
Mrs. Schilling, principal

507-962-3240 ext. 44