HBC J/S High Bulletin
Molly Schilling
Thursday, October 17, 2019
The passing of Ethan Erickson, H-BC 7th grader, has been very difficult for the H-BC community, staff, and students. Many tears have been shed, but also many smiles and giggles as friends of all ages shared silly memories they have with Ethan. May we all have Ethan's fighter spirit and ability to spread joy. The visitation will be held at the Hugo Goehle gymnasium on Thursday, October 17, 2019 for the public from 5:00 - 8:00 PM. The funeral service will be at 10:30 AM on Friday, October 18, 2019 at the Bethlehem Lutheran Church in Hills. Our hearts go out to the Erickson family.
---
Two FFA teams qualify for State:
On Tuesday, October 15, members of the H-BC FFA chapter loaded a bus for Sherburn where they would compete in CDE (Career Developments Events) judging competitions. The state determines how many teams from each district can qualify for state in the various categories. We had teams compete in Soils, Poultry, Forestry, and Horse Evaluations. Students involved in Forestry (Austin Allen, Calvin Erickson, Parker Gehrke, Easton Harnack, and Gavin Wysong) placed 6th, but the district was only allowed four teams. The horse team included Kellie Vander Brink, Kathleen Kiers, and Tyrae Goodface. The Poultry and Soils teams each placed seventh and qualified for state!
Poultry Team: Kenadie Fick (placed 10th individually!), Avery Vis, Ashlee Kelderman, Jacey Vanden Hoek, and Joslyn Birger
Below is the Soils Team: Front row: Max Scholten, Zander Wysong, Back Row: Kyle Kueter, Troy Durst, Donavon Leenderts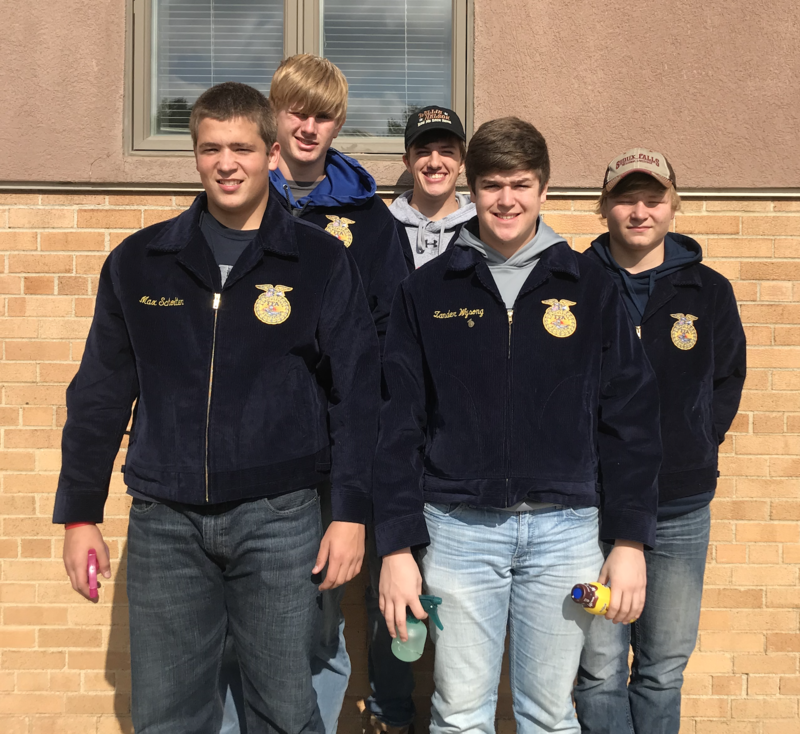 ---
Dordt University Math Competition
October 15, seven students traveled to Sioux Center, Iowa with Mrs. Wysong to compete with other top high school math students. According to Mrs. Wysong, "The students did fantastic and enjoyed the challenging questions." Mrs. Wysong is looking forward to bringing more students next year.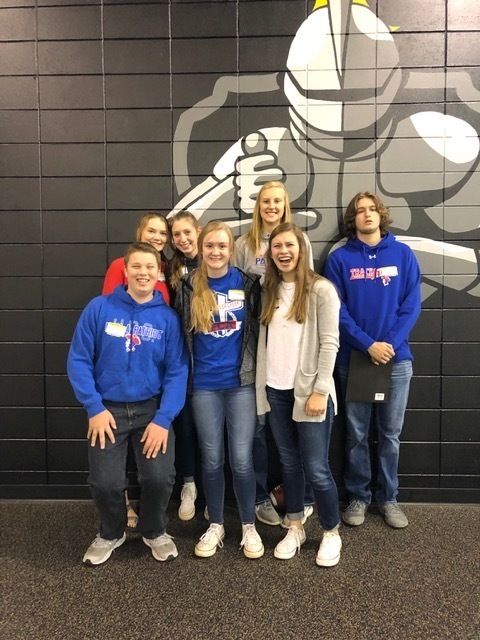 Front Row: Thomas Dysthe, Kailey Rozeboom, Lauren Tatge

Back Row: Allie LaRock, Taryn Rauk, Whitney Elbers, Jax Wysong
---
Math Counts Team Announced
Students were able to volunteer to take an assessment to see if they would qualify for the math counts team. Students chosen will go on to compete in Marshall at SMSU in February. Congratulations to the following students for making the Math Counts team!
Blake Leenderts, Mazzi Moore, Cooper Gehrke, Sylvia Fick, Kyler Hartz, Riley Tatge, Brynn Rauk, Lucas Hubbard, Quintice Susie, Ella Sammons, Sarah Prohl, Gavyn Leuthold, Elliot Morris, Jamin Metzger, Abby Olson, Claire Knobloch
---
Flu Clinic a huge success!
Thank you to the Sanford Luverne Medical Center and the Luverne Area Community Foundation for sponsoring the flu vaccine clinic on Tuesday, Oct. 15!! The Hills - Beaver Creek pop up flu shot clinic administered 234 vaccines to students and staff!
---
E-Learning Practice and Evacuation practice
On Oct. 17, we have been having a "walk-through" or "pre-game practice" of sorts to prepare for bad weather and the use of e-learning. Staff are discussing with students how they can expect to be communicated with and what tasks they may be asked to do. Part of the new policy is the expectation to take attendance. We have polled the students to know who has a device at home with access to internet. For students that have limited access to a device or internet, we may send things home paper copy in advance if it is something predicted. The other aspect is that the assignments given will have have a three day out due date. We want to reassure students (and parents) that their grades will not suffer if they do not have access to a device the day of the "real thing."
We also set aside time to do an evacuation drill in response to a fire drill as well as a hard lockdown on Thursday morning (10/17). Things went very smoothly, students and staff responded quickly and quietly to the tasks and directions they were given.
---
Upcoming Events:
10/21 - Playoff Volleyball 7 PM H-BC v. Ellsworth (Hills) **no streaming on NFHS for playoff games
10/22 - Scrubs camp with MN West - Anatomy class
10/22 - Playoff Football - 7 PM **no streaming on NFHS & NO TAILGATE MEAL
10/23 - Mrs. Zylstra's class to the Tuff home
10/23 - 6 PM *** SENIORS & SENIOR PARENTS Financial Aid Meeting
10/25 - Playoff Volleyball **no streaming on NFHS
10/26 - 3 PM Playoff Football **no streaming & no tailgate meal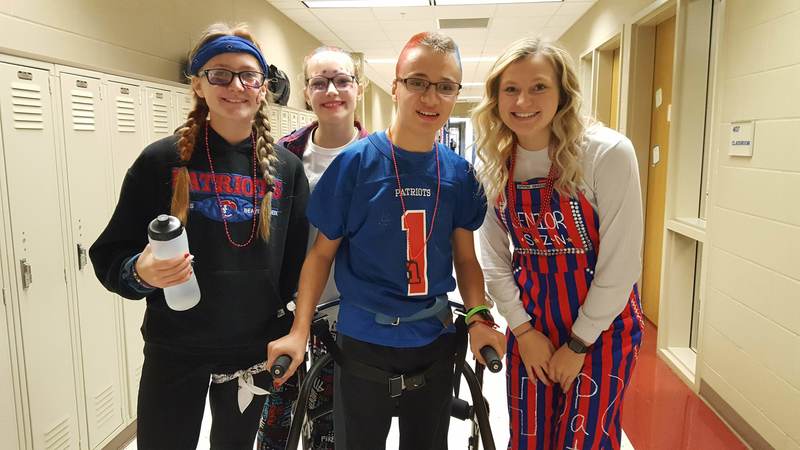 GO PATRIOTS!! (Pictured above: Bailey Spykerboer, Jaci Stubbe, Ty Leuthold, Joslyn Birger)