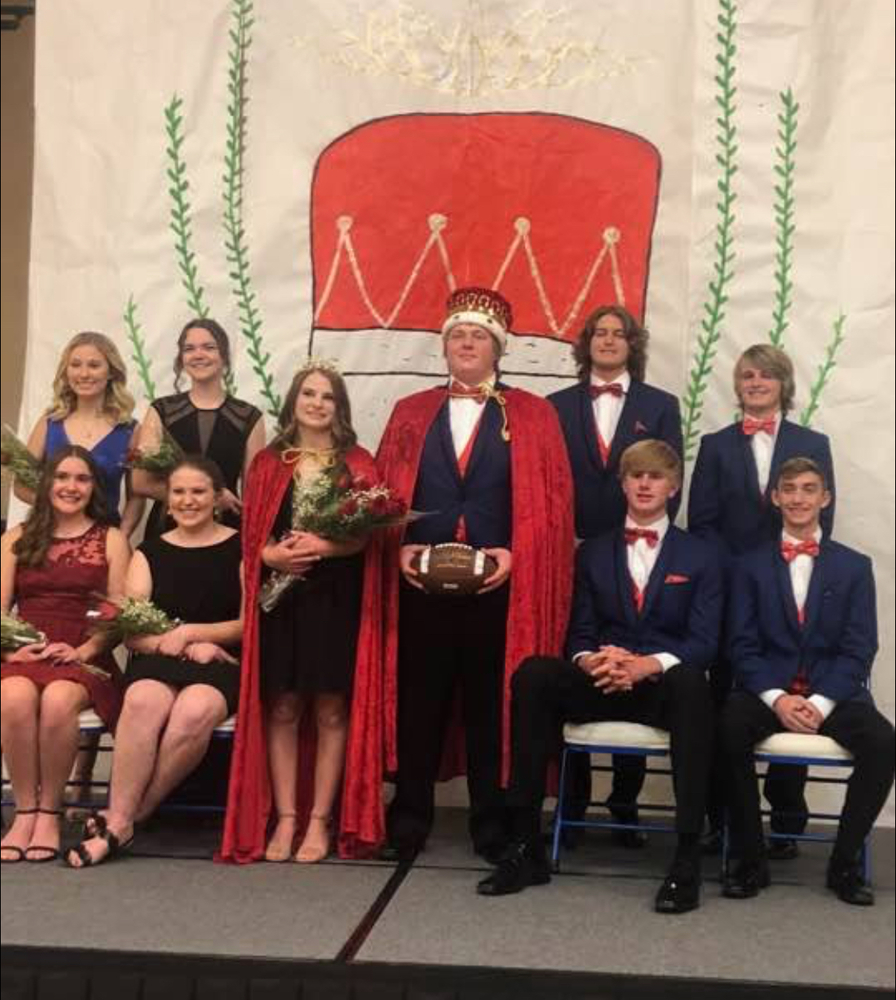 HBC J/S High Bulletin
Molly Schilling
Friday, October 11, 2019
Congratulations to Queen Josie Bartels, King Jaxon Steensma, and the 2019 Homecoming Royalty!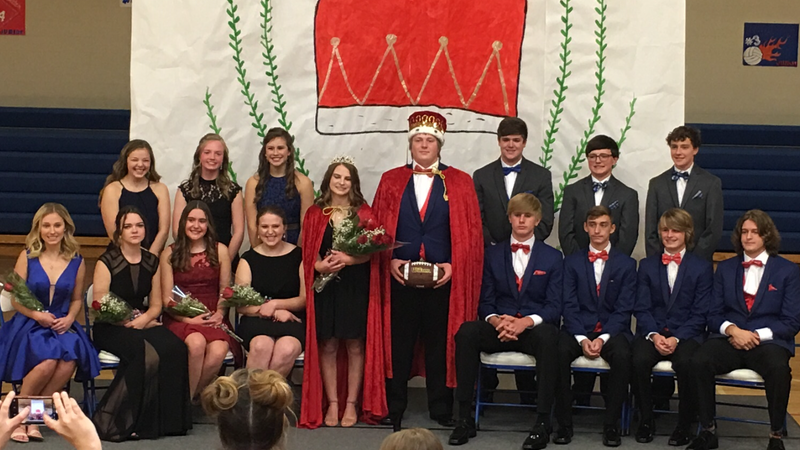 Front Row (L to R): Eve Burgers, Bryn Mongeau, Jo-Hannah Ladd, Larissa Kruid, Queen Josie Bartels, King Jaxon Steensma, Kyle Kueter, Parker Gehrke, Easton Harnack, Jax Wysong
Back Row (L to R): Olivia Bork, Tess Van Maanen, Lauren Tatge, Zander Wysong, Austin Allen, Luke Fuerstenberg
Homecoming week has been an eventful week with great participation in the dress up days and (mostly) being good sports for Kangaroo Court! We have a lot of school spirit alive and well!
Stay tuned for more photos of the winners and events to be shared!
We will be live streaming the Homecoming Olympics this afternoon for free!
---
PTO Inflatables are postponed! Plans are TBD.
---
Watch Patriot Events All Year Long!
The HBC Patriots are now on the NFHS Network for LIVE events at our football field and new gym with the purchase of new technology. Subscription options include an annual pass for $69.99 or monthly pass for $9.99 a month. You can watch from anywhere (iOS, Android, or any browser)! Visit www.NFHSnetwork.com - search Hills-Beaver Creek, and subscribe and follow! Thanks to Security Savings Bank for being a donor to help support the purchase of the new equipment to make this possible! **The cost is going up in November to $10.99 a month. If you purchase your subscription in October, your amount will remain at $9.99.
---
FLU VACCINATIONS
Here is a link to the Flu Vaccination Form for this years Flu Vaccination Clinic at our Schools. Please fill out and return to school. Here is the link for the Flu Clinic -October 15.
---
OCTOBER IS ANTI-BULLYING MONTH
Students are asked to wear Orange on Wednesday, October 23rd for Unity Day. This is to recognize that we need to unite to eliminate bullying!
Here is the link for reporting bullying. https://bit.ly/2lN4lvc

---
FINANCIAL AID MEETING
Seniors and parents- please plan to attend the financial aid (FAFSA) planning meeting on Oct. 23rd at 6 PM in room 305 (old South computer lab).
---
Upcoming Events:
Oct. 11 - Homecoming Football game vs. RRC
Oct. 14 - VB v. SWC
Oct. 14 - JH/JV FB v. Edgerton
Oct. 14 - 7 PM Board Meeting
Oct. 15 - Dordt University math competition & Ag trip
Oct. 15 - Flu shot clinic
Oct. 15 - JH VB v. SWC
Oct. 16 - PSAT in room 305
Oct. 16 - FB @ Madelia
Oct. 18 - MEA (no school)
Oct. 23 - Unity Day (Wear Orange) Anti-Bullying day
Oct. 23 - 6 PM SENIOR FAFSA (Financial Aid) Meeting
Nov. 5 - Picture Retakes
Nov. 17 - 22 - American Education Week
Kailey Rozeboom serving the winning match point for the Patriots vs. MCC!
H-BC student body cheering/singing at recent volleyball events! Way to support our team!