HBC J/S High Bulletin
Molly Schilling
Friday, October 04, 2019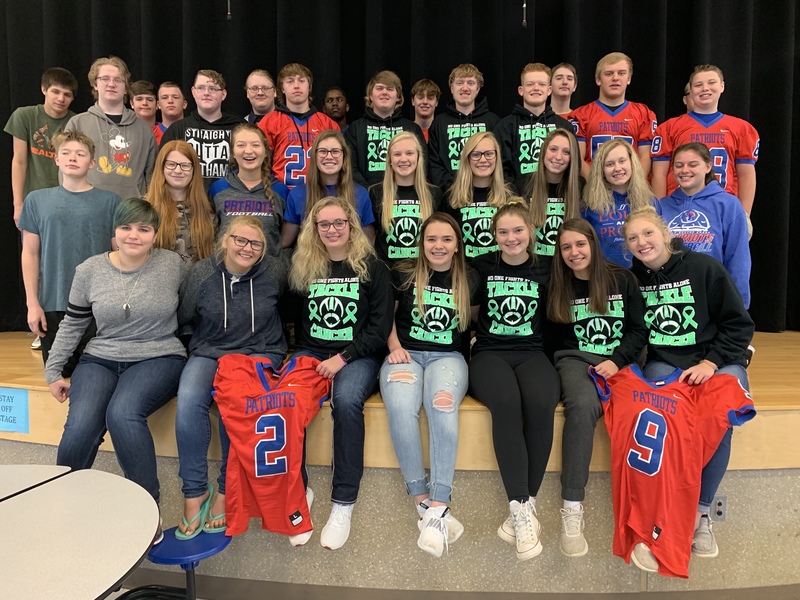 Pictured Above: Class of 2021
Tackle Cancer Varsity Football game versus Sleepy Eye St. Mary's is tonight (10/4/19)! Thank you to all that supported the apparel fundraiser in support of the Erickson family.


---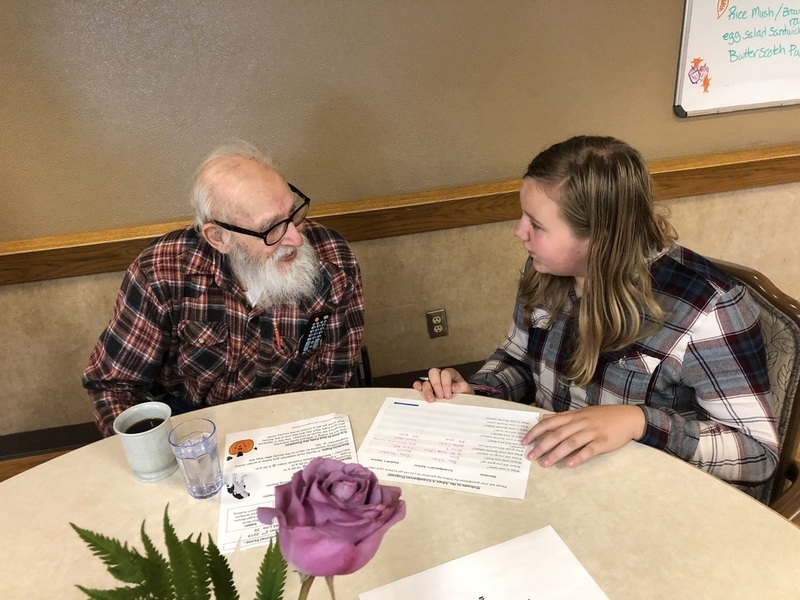 Adopt a Grandparent Program
The 6th grade students have the privilege to partner with special grandparents who reside at the Tuff home. Jocelyn Jacoby helps to organize activities and talking points to help the pairs develop conversations and relationships. This is quickly becoming a favorite activity that the students get to participate in!
---
Homecoming 2019 Festivities
Oct. 7 - 7 PM Coronation

Oct. 8 - 2:45 Pepfest for Girls' Volleyball (Home match vs. Edgerton)
Oct. 11 - 10:30 Staff v. Sr Volleyball, VB, decorate floats, Olympics, 2:00 Pepfest, 2:30 Parade
Dress Up Days: **Prizes for dressing up, students may win more than once!!
Monday - Out of this World

Tuesday - Tiki-Beach
Wednesday - Disney v. SuperHero
Thursday - Decades
Friday - Patriotic Red, White, and Blue
---
The HBC Staff will be hosting a benefit meal prior to the homecoming volleyball match versus Edgerton to benefit two families who are newly impacted by cancer and the medical expenses that come with the diagnosis. It will be a free will donation for a BBQ, chips, bar, and drink at the high school from 5:30 - 7:30 on October 8th. See the link for the flyer. Benefit Meal
---
Parent Teacher Conferences -
On October 10th from 3:45 - 7:30, we welcome parents to come in for midterm conferences. I am trying a new tool called Sign Up Genius which allows you to sign up for a time to meet with a specific teacher. The teachers will be set up in the commons, except for 6th grade - they will be in their homeroom. Sign Up Genius protects privacy and does not require an account and will not share your information with other consumers. My hope that by using a sign up tool, you feel your time will be better respected and spent conversing with the teachers you need to see instead of waiting in line (fingers crossed!). https://www.signupgenius.com/g...
---
Watch Patriot Events All Year Long!
The HBC Patriots are now on the NFHS Network for LIVE events at our football field and new gym with the purchase of new technology. Subscription options include an annual pass for $69.99 or monthly pass for $9.99 a month. You can watch from anywhere (iOS, Android, or any browser)! Visit www.NFHSnetwork.com - search Hills-Beaver Creek, and subscribe and follow! Thanks to Security Savings Bank for being a donor to help support the purchase of the new equipment to make this possible!
---
Upcoming Events:
10/4 - VB @ Marshall (Jimmy John's Tournament)
10/4 - FB v. Sleepy Eye St. Mary's
10/5 - VB @ Marshall
10/7 - JH VB v. Ellsworth (please park on the South side of the gym)

10/7 - 7 pm Coronation
10/8 - Homecoming VB game v. Edgerton **Benefit Meal 5:30 - 7:30
10/8 - JH/JV FB @ WWG
10/9 - 12:30 Juniors - College Fair
10/10 - JH VB @ West Lyon
10/10 - VB @ Luverne
10/10 - 3:45 - 7:30 Parent - Teacher Conferences
10/11 - 2:30 (or so) Homecoming Parade
10/11 - Homecoming FB game v. RRC